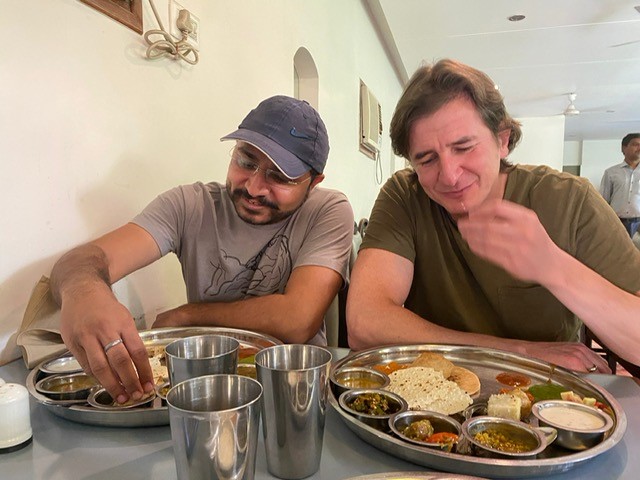 On the face of it, I shouldn't like this place. Traffic is abysmal. The pollution such that the Sun is a hazy ball in the sky. Feral dogs and cows meander the streets grazing on litter. The smells are sometimes overwhelming. The juxtaposition between luxurious hotels and children begging tears at the heartstrings.
However… I love it.
I first came to India in 2004, working for Accenture and helping set up one of their first big outsourcing projects. During the noughties I had several extended stays in Bangalore and fell in love with India. I returned this week, for the first time in ten years, not working for another company, but to visit my own IT team.
Yes… the traffic is still crazy. I still don't understand how there isn't an accident at every intersection. Entire families on a single scooter, helmetless, shimmying between cars. Drivers, when not on their phones, honking at stationary traffic. Cyclists transporting a huge bundle of who knows what, hawkers selling produce at the lights. Somehow everybody understands the rules of the chaos. Now it see seems people even take driving lessons.
Yes… the smells can still be wretched, but after two days I barely notice.
Yes… there are still smiling street kids tearing at the heartstrings. Outside temples and malls, attracting your attention to their wares with shouts of "mister", "dollar" and "uncle" (everybody's an uncle). You can't give to them all. What you do notice, however hard life maybe, they still seem be smiling.
But… The food. As diverse as the languages and people, every order is a dialogue with the waiter. Is the dish prepared North Indian or south Indian style. What spices are used, how spicy is a dish. Which type of bread would be best suited. Butter, how they love butter, or ghee. When your food arrives, the sheer pleasure of diving in with your fingers.
But… The History. I learnt more about British history here than in school.
On Sunday we visited Gandhi's ashram, his sanctuary. A haven of peace, smack bang in the centre of a noisy metropolis. So much has been retained you can transport yourself back 100 years. Imagining the great man spinning yarn and planning his next strategy to reject the Britishers (as they call us).
I see the irony in the people of 2023 being so welcoming to a man from the country they spent so long trying to eject.
But… the religion(s). The temples, ancient but with such intricate stonework that you don't see in European churches and cathedrals. I stumbled across what I assume was a hymn session, where the rhythm and melody was as foreign as the text.
There are too many gods to remember. Everybody seems to have their favourite and follows their teachings. I guess a little like having your favourite patron saint. Remember, long trousers, unless you want to borrow some fetching pants from the temple warden. But…most importantly, the people. So welcoming, friendly and generous. Seemingly missing western cynicism and bitterness. So many smiling faces, the desire to share their culture, their foods and their country.
I won't let another ten years fly until I'm back here again. You may have ejected the Britishers but you won't put off this Brit. I do hope that in ten years, when I visit, I hear fewer shouts of "uncle" and I am able to see blue skies above the city. You can do it India!